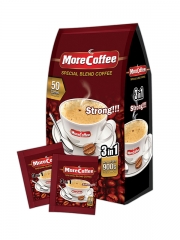 Product Details
Item Category : FNB
Item Type : FEATURED
MORE COFFEE Special Blend Coffee
More Coffee made from selected coffee beans has expertly processed and produced the exquisite taste and aroma of the original coffee.
There only have the three main ingredients with use the pure Coffee, Non Dairy Creamer and Sugar. More Coffee formulating such as; Natural Instant Coffee, Sugar, and Non Dairy Creamer (Glucose Syrup, Hydrogenated vegetable fat, Stabilizer (E340, E341,E450/E452), Caseinate Lactose, and Emulsifier (E471, E472c).
Easy, only add a hot water 70ml with 1sachet More Coffee and drink it.